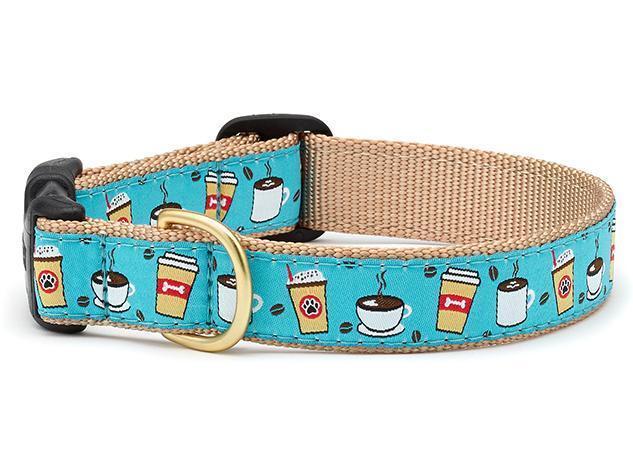 Details
Up Country Dog Collars
Our Made In America Up Country ribbon collars, leads and harnesses come in a wide variety of lengths, and in three widths. Wide = 1 inch, Narrow = 5/8 inch, Teacup = 1/2 inch. Ribbon collars are made from high-tensile strength nylon webbing with sewn-on polyester/nylon ribbons.
Their ribbons are stain and fray-resistant; designed to last a lifetime. All collar and lead hardware is cast, not welded brass for extra strength. Their buckles are Coast Guard approved for high weight hold.
Machine wash cold, air dry. They'll look brand new.  
This represents just a small collection of our Up Country Collars.  Please note, our leads are special orders so if you'd like a matching lead with your Up Country collar please let us know we'll place a special order for you.   Leads come in a 6' Narrow or 6' Wide width.  Please let us know which size you would like.  
SIZING:
XS (6-12"); Narrow 5/8"
S (9-15"); Narrow 5/8"
S (9-15"); Wide 1"
M (12-18"); Narrow 5/8 "
M (12-18"); Wide 1"
L (15-21"); Wide 1"
XL (18-24"); Wide 1"
XXL (21-27"); Wide 1"
Additional Information:
| | |
| --- | --- |
| PLU: | 1-19672 |
| BRAND: | Up Country |