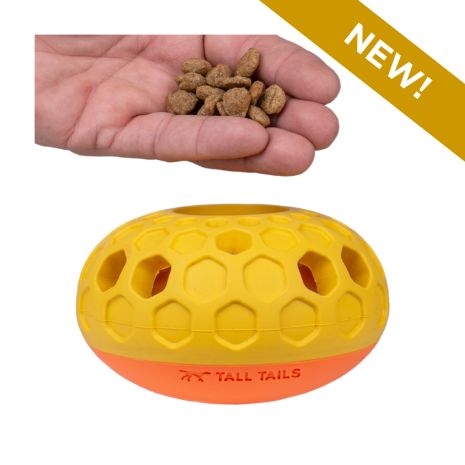 Tall Tails Natural Rubber Bee Hive Dog Toy 5"
Details
Tall Tails Natural Rubber Bee Hive Dog Toy 5"
The Natural Rubber Bee Hive Reward Dog Toy is crafted from rugged and flexible natural rubber, providing a stimulating mental and physical playtime for your furry friend. Your pup can lick and nudge the toy to their heart's content while being rewarded with treats that shake out as they play. The inner retention sleeve helps keep all the treats from pouring out of the top when flipped over. This toy is perfect for dogs who enjoy a fun challenge and can easily be cleaned in the dishwasher's top rack after use.
Wellness Beyond FoodTM
Playtime is a core pillar of your dog's overall health and wellness. We recommend making time every day for interactive play between you and your dog. Playtime together reinforces the special bond you share with your furry friend and provides your dog with the vital stimulation and exercise they need. Our Natural Rubber Reward Toy line is designed with interactive play in mind and made with sturdy materials to be your pup's new favorite toy.
5" natural rubber reward dog toy
Keeps your dog busy with mental and physical playtime
Shakes out treats while your pup spins it around
Inner retention sleeve keeps treats from pouring out of top flipped over
Ideal for dogs who love fun challenges
Dishwasher top rack safe
Additional Information:
Material:
Natural rubber. 
Care:
Dishwasher top rack safe.
| | |
| --- | --- |
| PLU: | 1-22791 |
| BRAND: | Tall Tails |